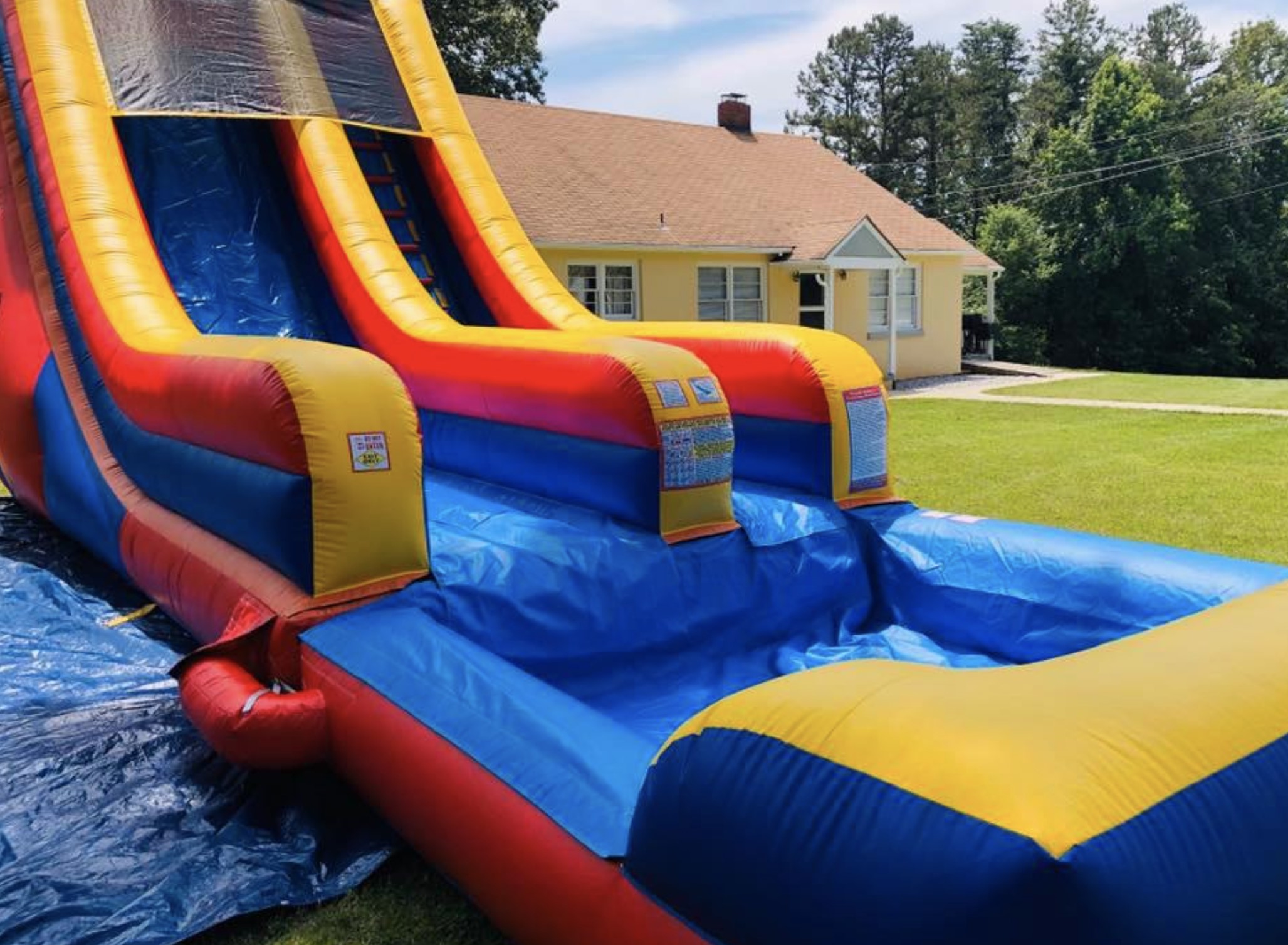 Make your event unforgettable with Aurora Bounce House Rental's range of exciting Aurora inflatable slides. Our selection features slides up to 15 feet tall and wet slides that soar over 35 feet tall, ensuring entertainment for all age groups. Our expert team is trained to set up each slide quickly and safely, arriving early to ensure a seamless process.
At Aurora Bounce House Rental, safety is our top priority, and we use the latest security and stability technology to operate each slide. Whether it's a school event, community gathering, or birthday party, our inflatable slides provide endless fun in a secure environment. In addition, we also offer other equipment rentals, including tents and canopies, combos, houses and castles, and more!
Contact us today at (720) 538-9759 to book your next event and let Aurora Bounce House Rental's inflatable slides take it to the next level.
We're Gonna Let It Slide!
Inflatable slides can transform any gathering into a thrilling and lively escapade, where attendees eagerly climb to the top and slide down in a flurry of exhilaration. The sensation of weightlessness as they glide through the air and the surge of excitement upon splashing into the water can leave guests overjoyed and craving more.
Wet Slides
Make a splash at your upcoming event with our amazing array of wet slides! No matter what the size or theme of your party may be, we have something that will satisfy all your guests, and our team of experts will handle all the installation work. Simply turn on the water, and your guests can scale the slide and splash into a refreshing pool below. With the sounds of laughter and delight filling the air, your celebration will be unforgettable.
Our wet slides are a surefire hit at any gathering, from children's birthday parties to corporate events, and are sure to keep both kids and adults entertained. You can relax knowing that our team of professionals prioritizes the safety and pleasure of all attendees throughout the event. Don't wait another minute—book your wet slide today and let us handle all the details.
Dry Slides
Experience endless fun and excitement with our incredible collection of dry slides, suitable for events where water may need to be more practical and desired. Our collection includes various sizes and shapes, ranging from 15 to 35 feet tall, with steep drops, twists, turns, and high-speed descents that will provide hours of entertainment for all ages.
At Aurora Bounce House Rental, the safety and satisfaction of our guests are our top priorities. We conduct thorough inspections and maintenance of all our dry slides to ensure maximum safety and enjoyment. Our team of experts is highly skilled in installing these attractions in designated areas to ensure that safety is never compromised. You can trust us to take care of every detail and make your event successful.
Ensure your event succeeds with Aurora Bounce House Rental's impressive assortment of dry slides. No matter the occasion, from family gatherings to business functions, our wide variety of dry slides will provide hours of amusement and excitement for all. Contact us now at (720) 538-9759 to explore our selection of dry slides and reserve your booking.