Aurora Houses and Castles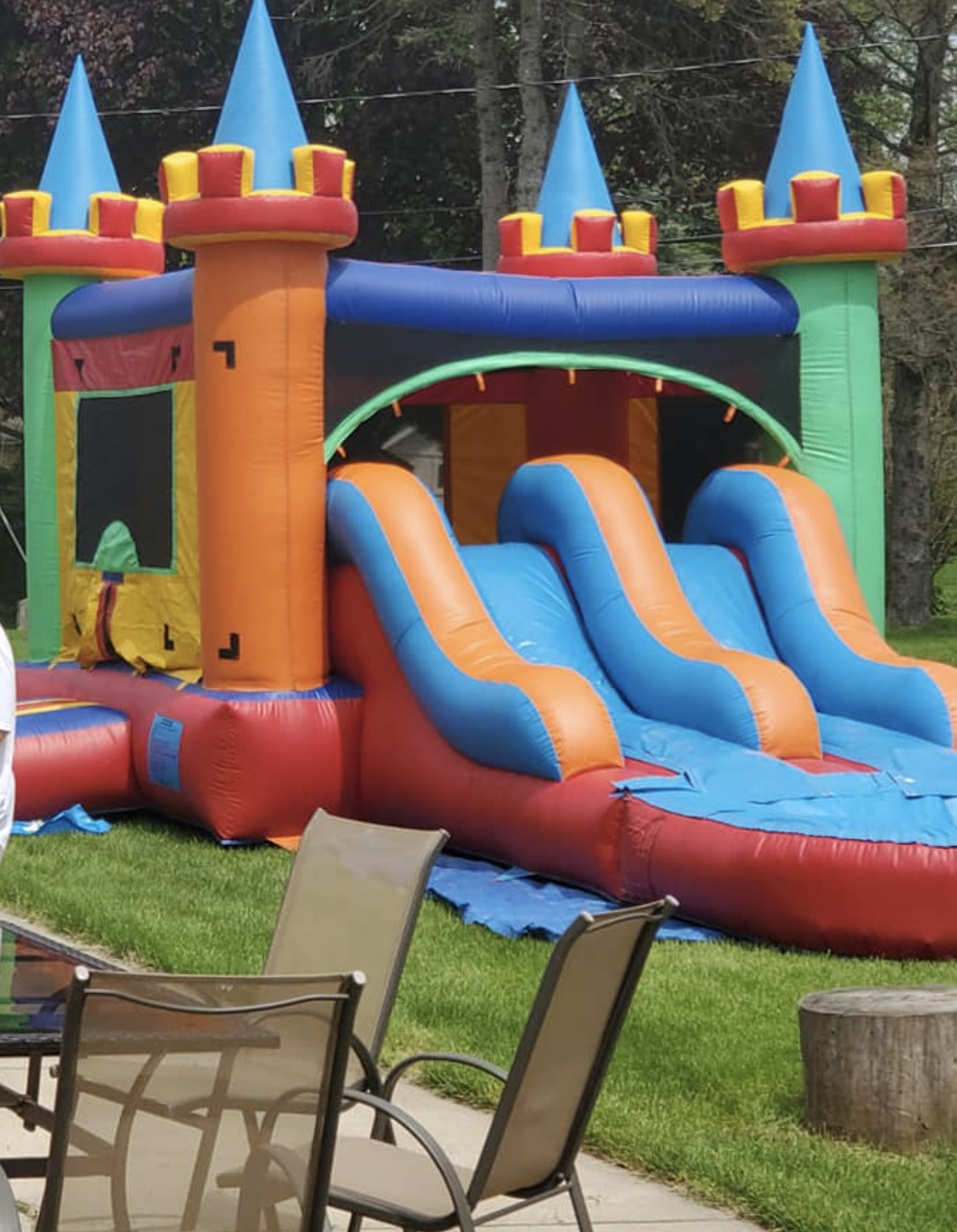 If you're looking for bounce houses or castle rentals in the Aurora area, Aurora Bounce House Rental is a perfect choice. We provide various inflatables ranging from 13′ x 13′ houses and castles to larger 20′ x 20′ units, as well as 10′ x 10′ options specifically designed for younger children. You can be confident that all of our rentals are safe and dependable.
Our team understands that every special event is unique, which is why we offer a wide range of themes to suit any occasion, whether it's a birthday party, corporate event, family reunion, or community gathering. Our lively-themed inflatables will make your celebration even more memorable and extraordinary. Let us help you create the most unforgettable party ever.
At Aurora Bounce House Rental, we are dedicated to providing top-quality inflatable rental products that prioritize cleanliness and safety. Our units undergo a thorough inspection process before and after each rental to ensure the security of our customers and the quality of our rented items. Our team takes great pride in delivering exceptional service and products that surpass expectations.
Are you organizing an event and looking for something fun? Look no further than Aurora Bounce House Rental, where we offer an excellent selection of inflatable options, including basic bounce houses, themed castles, and complexes. In addition, we also have combos, tents and canopies, slides, and more! We also provide a variety of bundle deals to help you keep your costs low. Contact us today at (720) 538-9759 for an unforgettable experience in Colorado's tri-county area.
Bounce Houses For Every Occasion
At Aurora Bounce House Rental, we recognize that setting up and taking down inflatable houses or castles can be time-consuming and overwhelming. That's why our skilled team takes care of everything, from transporting the equipment to your venue, setting it up, and removing it afterward, allowing you to focus on ensuring your special event runs smoothly without any added stress. We ensure that everything is done safely and correctly, so you can simply relax and enjoy the day.
We are thorough in setting up your event, ensuring that every detail is clean and hygienic. After the event is over, we handle the take-down of all equipment and ensure that your location is left just as tidy as when we arrived. Your safety and hygiene are of utmost importance to us.
At Aurora Bounce House Rental, we recognize that you want to create unforgettable memories with your guests without any additional stress. That's why our main focus is on handling all the details, allowing you to fully savor every moment at your event. With our assistance, you can let go of any concerns and immerse yourself in the happiness and excitement of this special occasion.
We Take Care Of Your Party Needs
At Aurora Bounce House Rental, we understand the value of your time. That's why our set-up process is incredibly swift! Our 20′ x 20′ bounce houses can be completely inflated and ready to go in just 10 minutes, ensuring that you and your guests don't have to wait around for the fun to begin. Don't miss out on any bouncing at your event or party—start with us right away and ensure that everyone has a fantastic time as soon as possible.
There's no need to waste your time and effort trying to inflate the rental yourself. Our expert team will come directly to you, fully equipped with all the necessary tools for fast and safe inflation. Additionally, we ensure that everything is thoroughly sanitized before use, providing you with peace of mind that your experience will be as clean and safe as possible. Let us help you reserve the perfect inflatable for your upcoming event without any stress or hassle—get in touch with us today by calling (720) 538-9759.