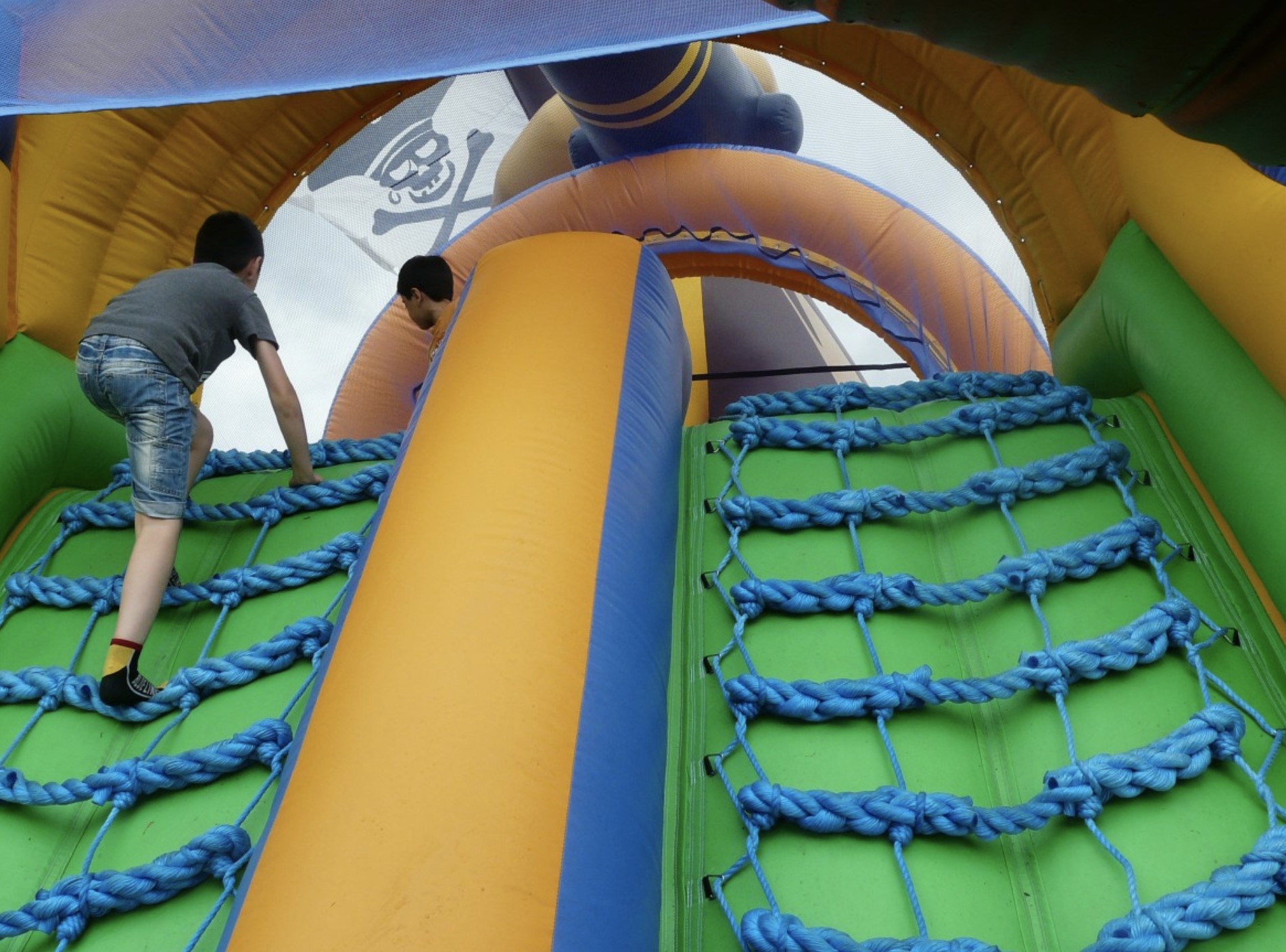 Transform your upcoming event into a smashing success with Aurora Bounce House Rental and our diverse range of inflatable obstacle courses! Our courses, ranging from 30 to 65 feet, offer the perfect challenge for corporate team-building activities as well as children's birthday parties. Packed with obstacles that will excite guests of all ages, these interactive experiences are guaranteed to keep everyone entertained from start to finish. Don't let this unique opportunity pass you by—make your next gathering an unforgettable one today.
At Aurora Bounce House Rental, we prioritize the safety and enjoyment of your guests. We inspect each inflatable obstacle course thoroughly before setting it up to ensure that they are secure and functioning correctly. Additionally, our team provides detailed instructions on proper usage practices so that everyone can enjoy themselves without worry. For added peace of mind, one of our employees will be present throughout the event—allowing you to focus solely on celebrating with your loved ones.
At Aurora Bounce House Rental, we understand that each event is unique and may require specific accommodations. That's why we offer a variety of adjustable-sized inflatable obstacle courses to meet your individual needs. Our knowledgeable team can assist you in selecting the appropriate size to fit your venue perfectly. We also offer other equipment, including inflatable houses and castles, slides, tents and canopies, and more! Whether you need a compact course or a larger one, we guarantee to provide exactly what you require.
Say goodbye to the stress and hassle of post-event dismantling – we'll handle it for you! Don't miss out on the opportunity to elevate your event to the next level with our exciting inflatable obstacle courses. Contact us today to reserve one for your upcoming gathering.
Inflatable Obstacle Courses For Rent
Make your next event unforgettable with Aurora Bounce House Rental's inflatable obstacle courses. Our vibrant and exciting themes provide an interactive experience for visitors of all ages, whether you're hosting a birthday celebration, corporate gathering, school function, or community get-together. Our obstacle courses come packed with jumping obstacles, slides, tunnels, climbing walls, and more to keep your guests entertained and engaged.
We understand that every event is unique and requires a personalized touch. That's why we offer a variety of themes and sizes to cater to your specific needs. Our experienced team can help you find the perfect course that fits your venue and creates a memorable experience for your guests. Additionally, we can customize our obstacle courses to bring your vision to life. Don't miss out on the opportunity to add some excitement to your next event. Contact us today to book an unforgettable inflatable obstacle course.
At Aurora Bounce House Rental, we prioritize the safety and enjoyment of our customers. Our selection of inflatables is not only dependable and easy to set up and remove, but they're also safe for all to use. Our team of experts can help you customize the perfect theme and size for your event, and we'll ensure that everything is set up swiftly and removed efficiently, leaving your area clean and tidy. We take pride in providing exceptional experiences for our customers, complete with exciting and secure inflatable obstacle courses. Dial (720) 538-9759 now!
Who Can Get The Lowest Time?
Aurora Bounce House Rental assures you that your event will be a memorable one with our thrilling and competitive inflatable obstacle courses. Our courses provide physical activity, friendly competition, and excitement that will leave a lasting impression on your guests. With options to jump, climb, and slide their way through the obstacles, attendees can strive to outdo each other, creating moments of joy and pride. Even after the event is over, your guests will continue to talk about the remarkable experience they had. Reach us today by calling (720) 538-9759!